Learn + Connect Series on Systems Change | Land Back & Right to Housing
July 14, 2022, 9:30 AM - 4:30 PM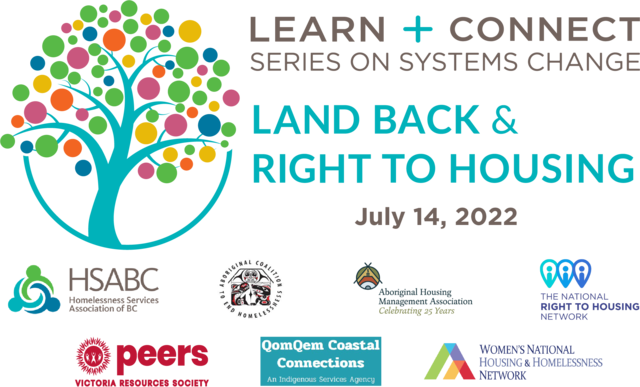 HSABC, with the Aboriginal Coalition to End Homelessness Society (ACEH), the Aboriginal Housing Management Association (AHMA BC), the National Right to Housing Network, Peers Victoria Resources Society, QomQem Coastal Connections, and the Women's National Housing and Homelessness Network (WNHHN) is presenting the Learn + Connect Series on Systems Change event focusing on Land Back & Right to Housing on Thursday July 14, 9:15 AM - 4:15 PM PST.
This virtual, free, full day program will focus on conversations and promising practices centred around identifying systemic issues related to housing as a human right in the context of the Land Back Movement. Speakers will share expertise on foundations and intersections of policy and strategy, systemic perspectives, case studies and promising practices, and on the critical intergenerational relationships involved in this work.
Learn + Connect events are free and open to any individuals and organizations to attend.