Learn + Connect Series on Systems Change | Health and Homelessness
May 12, 2022, 9:30 AM - 4:30 PM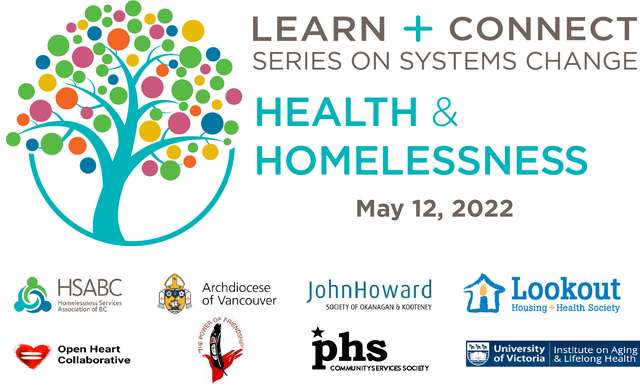 HSABC, with Catholic Charities Men's Shelter, John Howard Society of Okanagan & Kootenay, Lookout Housing + Health Society, Open Heart Collaborative, Prince George Native Friendship Center, PHS Community Services Society, University of Victoria:  Institute on Aging & Lifelong Health, people with lived and living expertise, and community advocates, is presenting the Learn + Connect Series on Systems Change event focusing on Health and Homelessness on Thursday May 12, 9:30 AM - 4:30 PM PST.
This virtual, free, full day program will focus on conversations and emerging practices centred around identifying systemic issues in healthcare settings, creating pathways to healing, highlighting the important role of outreach programming, supporting transitions from hospital to shelter, and exploring Complex Care Housing Models.
Learn + Connect events are free and open to any individuals and organizations to attend.
Ministry of Mental Health and Addictions- Complex Care Housing Briefing